It is a known fact that learning is an important aspect of a child's development. One that should begin in the early stage of a child's life. Alphabet toys ensure that learning the alphabet is fun and entertaining.
It helps them recognize colors, letters, and images. Apart from that, there are alphabet toys that aid kids in learning how to spell and write not just their names but simple words. With the toy, your kids can learn emotional skills, hand-eye coordination, fine motor skills, and more.
Are you a parent or perhaps a guidance counselor having difficulty in deciding on the right alphabet toy for your kids? Then read on.

The first alphabet toy on the list is by DMAI, Inc. It is made for toddlers between 12 months to 3 years old. The alphabet toy teaches over 60 different stories. It nurtures the love of reading through the use of a read-aloud stories book. It comes with unique hardware and exclusive content.
Moreso, the educational tool will help parents teach their kids attention span. It will also ensure the development of their cognitive skills, numeracy, literacy, social/emotional skills at the early stage of their lives. The AILA device is developed and curated by innovators /educators. It requires a 1 X lithium-ion battery.
Apart from the fact that the toy is fun, it also engages your toddlers. It engages them to sing along, dance, and learn ABC,123, colors, shapes, stories, music, and more. The alphabet toy comes with over 25 classic sing-alongs and 20 lullabies. It is perfect for home and daycare use and that makes an ideal gift idea for toddlers preparing for pre-school.

Coogam-manufactured alphabet toy helps kids to see new possibilities. With the toy, kids can enjoy playing with ABC letters. While playing they will learn to identify letters and organize them as a puzzle. Kids can easily find their way around the alphabet toy.
It is of high-quality wood. The pieces are thick and stand up upright on a table. It is smooth, sturdy, lightweight, and well-painted. The Coogam product comes with 26 pieces of wooden ABC uppercase blocks board with different colors. It is recommended for kids between the ages of 3 upwards. Toddlers can also make the most of the toy. Also, it is an ideal gift idea for pre-school-year-old kids.

BlueZoo-manufactured alphabet toys allow kids to learn ABS with Robots. Cool right?
These robots are to help teach letters. Some of the perks of deciding on the alphabet letter include hand-eye coordination and gross motor skills. Also, the toy is considered to be STEM (Science, Technology, Engineering, and Mathematics) oriented. It is also in line with Montessori programs.
They are for kids between the ages of 3 up. It is made of high-quality materials. And that makes it durable, and sturdy. The alphabet toy can withstand rough play and stand the test of time.

The next alphabet toy for kids is by Just Smartly. It is for kids between 24 months to 5 years. The toy is an educational toy every kid should have in their early childhood development. With the Just Smartly product, kids can learn the alphabet, numbers, and even spellings.
The interactive toy is a great addition to the decor of your kid's room. As the interactive ABC wall poster will compliment your child's room. It can also serve as a collection to your game room (if you have one).
The toy doubles as learning and fun. That is, kids can learn while having fun. It also helps your little ones develop the required skills for preschool and after. Some of these skills include singing along, dancing to the nine popular ABC songs. Also, they get to learn songs like Twinkle Little Star, Wheels On The Bus, and Three Little Kittens. It is colorful and will allow your kids to have hours of exploration and learning.

Hony-manufactured alphabet toys are considered a fun and educational tool. With the interactive wall chart, your little ones will get acquainted with shapes, colors, word association, spelling, and phonics. Apart from that, they will learn the difference between the uppercase and the lowercase letters.
Your little ones use words phonetically with appropriate examples of Amerian pronunciation. There are quiz games that serve as encouragement and feedback. The ABC wall poster will compliment your child's room or game room. It is with colorful and attractive designs that engage, allow kids to explore and learn.
The hony wall poster helps kids to develop skills needed for preschool. Also, the alphabet toy is double-sided designed. It has sound on the front and no sound on the other.
It is a suitable choice for kids, preschoolers, and early learners. You can easily hang it on the wall or put it on the desk table. It is for kids between the ages of 24 months to 5 years. The alphabet toy shuts down automatically. It required 3 X AA batteries which are not included in the package.
Furthermore, the back and the sides of the interactive alphabet toy are waterproof cloth to prevent fingers from scratching. It is eco-friendly and is safe for the skin. The toy is gender-neutral and that makes it perfect for boys and girls to make the most of it.

Coogam-manufactured letters matching eggs are perfect for teaching kids colors and shapes. It is for creative little minds. It helps them get involved in organizing, sorting, and matching alphabets. Indeed, the toy will hold the interest of your little ones.
It comes with matching alphabetical eggs (26 pcs) that include blue, red, yellow, green, and orange. The toy has a container that makes it smooth for easy and neat store away. It is also for teaching kids how to clean up.
The Coogam alphabet toy is a high-quality plastic material. With the product, you do not have to worry about plastic stink and toxicity. Apart from that, it is safe to have around your kids. It is durable, sturdy, and can stand the test of time. The toy is an ideal gift idea for Christmas, birthdays, and holidays. It can serve as a travel game.
Lastly, it is helpful for kids with sensory issues, educational delays, and motor skills. The educational toy is for kids between the ages of 3 up.

Vtech-manufactured alphabet toy introduces your little ones to letters, sounds, names, writing, animals, and drawings. It allows interactive learning activities like 26 letters, writing, erasing boards, games. Also, the letters can be plugged into spaces. In a nutshell, the toy allows kids to explore alphabets.
It is for kids between the ages of 3 up. It required 2 X AA that is in the package. However, these batteries only serve demo purposes. With the toy, kids can see letters on the LCD screen, hear the name of a letter, and get acquainted with animals that begin with a letter. And other exciting features.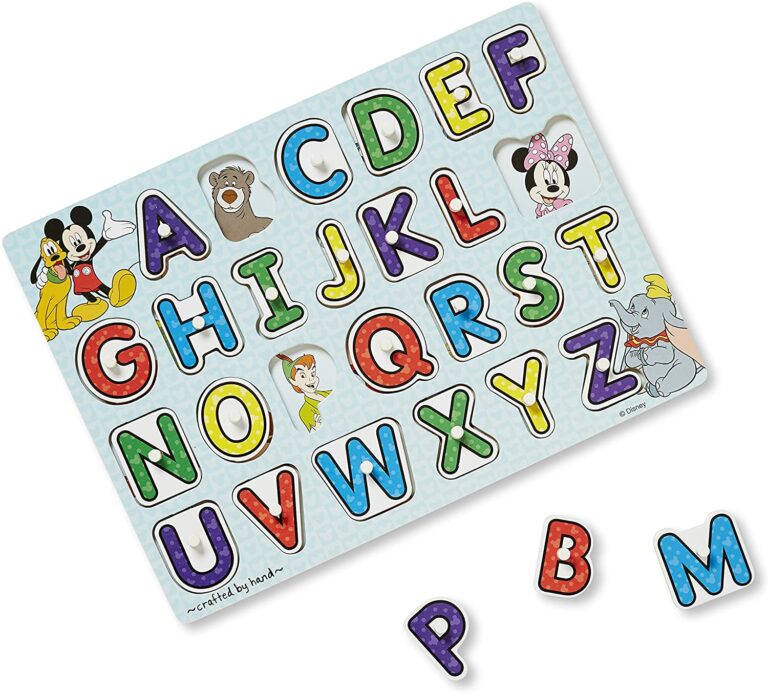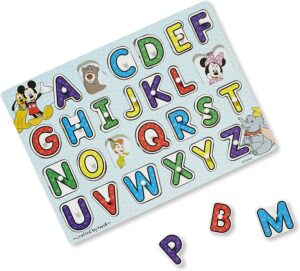 Melissa & Doug -manufactured alphabet toy comes with 26 pieces. Each of these pieces has a hidden character and image. All you need to do is lift a letter, and the classic characters/image will unveil.
It is for kids between the ages of 3 up. The alphabet toy is of a top-quality wooden piece. It is sturdy and can stand the test of time.

The last alphabet toy on the list is by Wondertoys. It is for kids between the ages of 3 years up.
The wooden alphabet puzzle comes with 26 pieces of wooden uppercase block ABC. It has bright colors and hassle-free illustration that makes learning easy.
With the Wondertoys toy, kids can practice their ABC and form simple words from the puzzle. Also, it helps your kids recognize colors, pictures, letters, and spell things fast. The toy helps in enhancing their imagination, gross motor skills, hand-eye coordination, rudimental cognitive skills, and more.
It is of natural and high-quality wooden material that is non-toxic. They are also safe to have around your kids. An ideal gift choice for kids in preschools, playrooms, and nurseries.
Conclusion – What Makes An Alphabet Toy Right For You?
By now, I know you will agree that alphabet toys contribute to the development of a child's literacy and basic cognitive skills. Parents and guidance should know that they can buy the best alphabet toys in the store while they stick to a budget. With that said, here are some of the things to consider before you decide on alphabet toys from the store.
An ideal alphabet toy must contribute to the development of a child at an early stage.
It must be durable, non-toxic, sturdy, safe, and stand the test of time.