Kids love ride-on toys! They love to have a replica of their parent's cars and prove their strength and intelligence. It makes them happy and strong. So, while you are thinking of getting your kids a push or pedal toy, think of this list of pedal cars for kids and make a choice. Kids love pedals, and watching them play will bring back your childhood memories.
Asides from the fun therein, ride-on helps to build multiple skills in children. We will discuss the benefits of the ride-on toys and a review of the best pedal cars for kids.
Benefits of Pedal Cars for Kids
Ride-on cars like pedal cars help to increase children's awareness of their environment and things around them.  It also encourages them to use their body muscles. They learn to balance well on their pedal cars. And when they are balanced, they learn to work their hands and legs in a motion that makes the car move from its position.  With ride-on cars like this, your kid's mobility skills improve. There are pretend radio, horns, and sometimes bell that will engage them as they go. This toy makes it easier for kids to move their bodies.
With pedal cars, you don't need to sit with them for thorough supervision.  Although supervising kids while they play is very important, pedal cars and other ride-on toys encourage independent play. The kids move on their own by their power, which makes it possible to go from one place to another without walking.  In some way, this helps them set a stage for thinking independently and help them realize the need to be independent.
Children learn to coordinate their movement and gain more confidence in their abilities. As they graduate from toys, they push to toys with pedals will boost their pride. They begin to get comfortable with the ride-on toys and will also be able to face more challenges.
Pedal cars and other ride-on toys come in different colors, which helps children's imagination grow wider. Since children like to pretend that they are adults, a pedal car will make them pretend that they are on a trip.  Then, they talk like you and act like you. This is very cute to watch.
Best Petals Car for Kids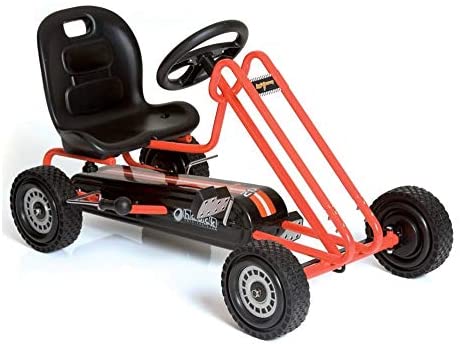 This pedal car is one of the best pedal cars for the kids that you can find anywhere. It has is sporty, durable, and unique. It gives kids a very authentic driving experience. Kids have full control over speed, and it is easy to handle. Hauck Lightning has race-style pedals with rubber wheels. It has about eight ball style hand brake as well. The pedal power doesn't provide any restriction as it is always ready to go. It doesn't require batteries or charging.  The pedal car also has 3 points sporty steering wheel that makes your child feel like a sports star. And finally, it has a steel tube powder-coat frame. Above all, this lightning pedal car comes with comfort. The seat is adjustable with a perfect high backrest. It is suitable for outdoor and indoor activities for kids from 3 to 8 years.

This pedal tractor gives your kid farming experience. They can play with this for hours and not get tired because it is built with so many features that make it so realistic. This Germany built a pedal car with a detachable trailer to improve imaginative play. John Deere has a high impact blow modeled resin body.  The pedals allow a chainless direct drive for the front wheel. It has an electric horn and also plays an engine sound. The tires are oversized so it can move smoothly on the terrain. This tractor is suitable for kids from 3 to 5 years. You'll see your kids load up the trailer and move the content from one place to another.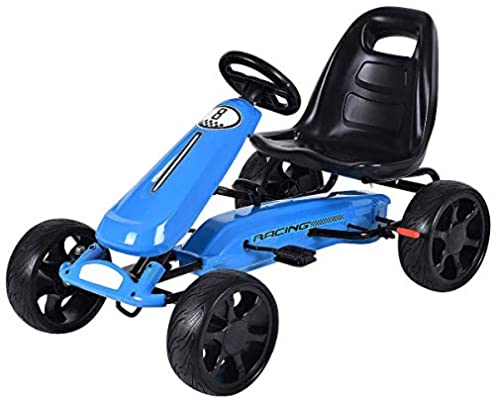 If you are looking for a pedal car that will allow your kids to cruise in feely, this should be your choice. They will have a comfortable bucket seat and pedals, brakes, and steering to take control and enjoy the ride. The steering wheel has 3 points, so it's easy to grip. The seat is adjustable and able to satisfy children of different heights. It also has a pedal power that doesn't give you connecting or battery charging issues. Your kids will also have control over going forward and reversing through the gear lever.  This pedal car is made of both a metal frame and polypropylene plastic that is safe and non-toxic. It is also light-weighted and suitable for outdoor and indoor play. The car has four rubber wheels of proper sizes that can cruise easily on any surface, be it grass or hard.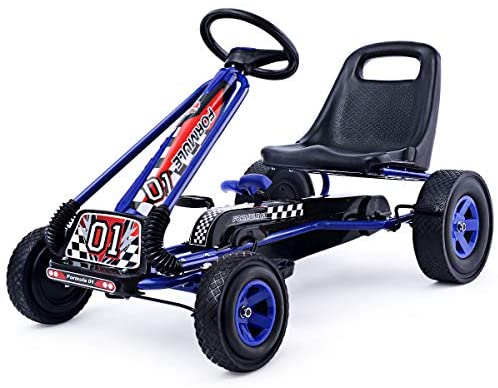 Kids from age 3 to 8 years will enjoy this easy-to-operate pedal car. It has a steering wheel, clutch, pedals, handbrake, and everything to make them have real fun. The ergonomically designed seat is comfortable and adjustable. The clutch makes it easy to move forward and backward. The wheels are wear-resistant with shock absorbers. The frame is made from solid and quality materials. It can withstand huge load capacity and is equally long-lasting. There are no wires to give you connection problems. The wheels of this pedal kart are coated with quality rubber that has a strong grip and wears resistance. It also can maintain balance.

With this pedal kart, kids feel like they are driving an actual car. This can be the perfect gift that will also keep your kids off video games for a while. It has an authentic land rover appearance that will attract kids and drive their imagination. It is easy-to-operate and designed for kids from 3 to 7 years. The pedal kart is made with a solid metal frame and PP materials that ensure stability and durability. It has a gear lever with skidding and riding mode. The safety brakes help your kid avoid bumping. The wheels will move comfortably on cement roads, asphalt roads, sand roads, lawns, and all kinds of roads. Costzon Licensed Land Rover gives kids a real-life driving experience in style.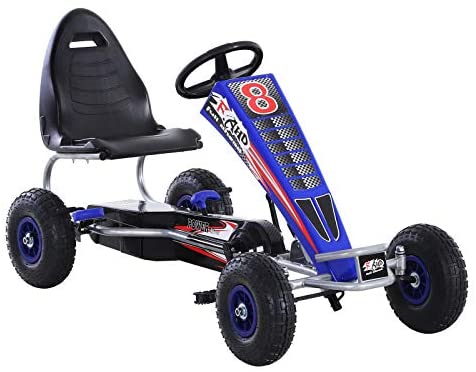 Here is another durable pedal kart making the list of best pedal cars for kids. It has a frame made of metal and rugged plastic. It has four rubber tires that are suitable for both outdoor and indoor activities. The kart also has a built-in brake and clutch that allows kids to control the speed, go forward and reverse as they please. The seat is flexible and allows adjustment and comfort. Also, there is no need to worry about connection or battery problems. The metal pedal-powered car is lightweight and suitable for kids from 3 to 8 years. It is simple to assemble and operate.

Berg has successfully developed quality and solid outdoor toys for over 30 years. This ride-on toy has firm wheels that can thrive through the most challenging terrain comfortably. The steering wheel is adjustable and can be reduced or stretched according to body length. So, this pedal kart is suitable for kids from 2 to 5 years. The wheels ensure they are stable and able to negotiate even the sharpest corners. It has been built with solid materials to ensure durability while maintaining lightweight.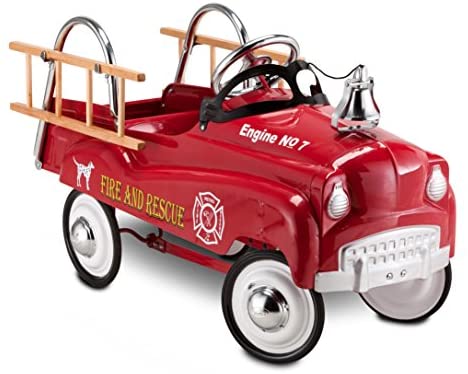 Asides from playing mum, dad, or farmer, your kid can also play firefighter with this fire pedal truck. It is painted with a bright fire engine red to create a realistic fire truck experience. It has a shiny steering wheel, and two pretend ladder holders with removable ladders. There is a bell attached to the hood of the truck with a fire helmet accent on top. It also has a string attached to its steering. The car has a small storage space behind the seat, rubber tires that come with chrome hub caps. It has an adjustable pedal drive that makes it possible to adjust to body length. And it is suitable for kids from 3 years and older.
In conclusion, children love to pretend play, and with their pedal cars, they get to develop more play ideas. With the pedal cars for kids listed above, kids can pretend to be on a trip, be farmers, or even firefighters. These toys don't stop at giving them fun but also go as far as developing their muscles.  It teaches them to be confident as they move from one point to another on their own.
Most toys have been built to be easy-to-assemble, lightweight, and durable. They have adjustable seats or steering wheels to suit body length. Kids will also not forget the childhood memories they build from cruising the neighborhood in their ride. Ride-on toys are one of the best gifts you can give kids to see their perfect smile.