As parents, you want the perfect childhood for your kids. Now, they are starting to grow fast, and you are confused about making it fun for them. Well, getting the best pool toys for kids would make them want to play outdoors. Outdoor is fun! Buying the best pool toys for kids would not be so difficult for you. Pool time should be a fun time for your kids, and to make this happen, you have to get them cool pool toys. Pool toys have always been inflatable beach balls, tubes, and rafts, Disney characters, but now diving sticks, basketball hoops, and mermaid tails are included. It will help if you read on to get a list of the best pool toys for kids.

What to consider when buying pool toys for kids
Searching for the best pool toy for your kids can be very tedious and tricky, especially when you do not know what to look out for. Here is a list of essential things to consider while buying the best pool toys for kids.
Age range: while buying pool toys for your kids, you should look out for the age limit on the package. It might be the last detail, but the toy must be suitable for your kid. When the age doesn't match, your kid could lose interest in using such toys and might likely give up on swimming. As a parent, looking out for the age would do good for your kid.
Safety: a good pool toy should be completely safe because kids would likely put the toy in their mouth. Considering that, these toys should be non-toxic and BPA-free, and safe regardless of how rigorous they play. Moreso, the toys should be slip-proof and waterproof. They shouldn't have small parts that can be swallowed.
Durable: a good pool toy should be long-lasting and durable. It would be best if you didn't have to buy another one after some weeks. Kids could play very hard and throw things around, and the manufacturer should consider this. As parents, you should look out for good ones that can stand the test of time.
Easy to use and move around: a good pool toy should be easy to assemble and dismantle. It should not need any technological tool to set it up; that can be very discouraging. Also, kids must be able to carry it themselves and easily.
Improve skills: while buying pool toys for kids, you should bear in mind that your kids need to improve their swimming skills, fine motor, and cognitive skill. It is very important because the learning process is quite easy in their early years.
Fun: kids should have fun while using these toys; that is one important role a toy should play. Aside from improving their skills, it should be fun, not boring. When they are fun, kids would look forward to swimming, swim more, and learn more.
Best Pool Toys for Kids

These pool toys offer three play styles. First is the chill player (throw it), semi-active (assist it), and crazy active (hack it) player. BULZIBUCKET is a toss game for kids but can be played by all ages. This game is easier and lighter to take to the beach. It consists of a backpack carrying case, 6 sacks, 2 heavy-duty collapsible bucket targets, and instructions. Bulzibucket is also great for a beach visit, camping trip, BBQ, party's tailgate, picnics. More so, it takes less than 20 seconds to assemble it and breakdown. The pool toy is easy to move around with the help of its portable carrying case. The size and weight of the console are about 1/10. The pool toy weighs 8 pounds and is recommended for 5 years and above.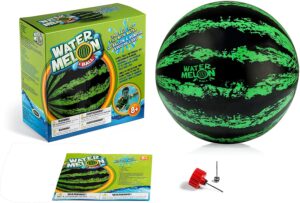 This toy is a swimming pool game. It has a water-filled ball that floats like a watermelon. In water, it would sink and rise to the surface slowly. The watermelon ball can be dribbled, bounced, and passed underwater. It is perfect for all kinds of water games. It comes with a filling needle and hose adapter to put water in it. To get maximum fun, pass the ball about ten feet underwater, dribble like a basketball, bounce it off the floor and walls of the pool, create your games. Kids can play it in the pool, pond, lake. Unlike the volleyball, the watermelon ball stays underwater.
You do not have to stress about how to fill the ball with water. All you need to do is attach the hose adapter to the garden hose and follow the instructions on the pack to enable it to float properly. When played in larger groups, it is a high-intensity sport that combines basketball, rugby, and football techniques. More so, unlike these games, a net and hoop are not required. With a watermelon ball, kids can enjoy their pool party with friends and family. It encourages exercise and activeness in pool activities; kids would always long for swimming exercise. Watermelon ball is recommended for age 8 and above.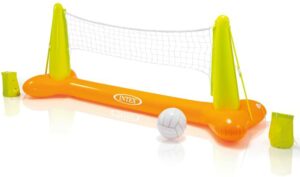 This game is made from strong 10gauge vinyl with a 7-gauge vinyl ball; It comes with an inflatable pole base, repair kit, shelf box, and volleyball. These pool toy dimensions are 94″ by 25″ by 36″. A pool volleyball game is recommended for age 6 and above; It weighs 2.2 pounds. It is not for children under 3 years because of its small parts. This game is suitable for pools, ponds, lakes, never indoor. Mind you, do not leave children alone with it; it is not a life-saving device. For safety precautions, procedures and instructions, check the included manual.

These are underwater toys that glide up to about 30feets. They are to be used in the pool or pond for diving. Heytech dive pool toys have bright colors and help kids to learn how to dive. It particularly helps you train your child to swim and have fun at the same time. When they play with friends, it gets very competitive because kids have to chase the gadgets, and anyone that catches more wins. The rings and sticks are made to stand upright at the bottom of the pool so that they can easily grab them. It is tested, non-toxic, and approved. Stick length is 7″, ring diameter 5.5" , Torpedo bandit length 5.2", water blasters 13". These devices are harmless to kids. Kids get to play water fighting underwater. Heytech dive pool toys weigh 1.7 pounds.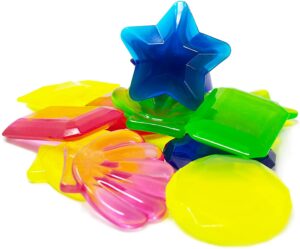 This pool toy is a 12-pack colorful ocean-themed toy for kids. It is recommended for kids of age 3 and above. These mold-free solid plastic are specially designed to survive vigorous play and avoid accidents. Boleyn toys are made from smooth solid plastic. They are made from 100% non-toxic materials, child-friendly, quality, and safe, It has been through various lab tests and has been approved. As long as the toys do not have holes, they would remain mold-free.  The manufacturers made it with the belief that learning is easier in the early years. The toys help their cognitive learning, fine motor skills, and problem-solving skills.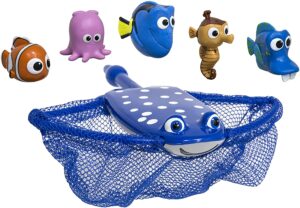 This pool is a fun pool toy for your kids, especially if they are Disney fans. It features characters in Finding Dory. They have to throw the characters into the pool and find them with Mr. Ray net. Do you know what more fun is? Each character floats at different depths. It is good for pool parties and also a great way to build swimming skills for your kids. Swimway finding memo consists of Dory, Nemo, Sheldon, Kathy, and Pearl. The dive stick has its length to be 6″, width 5″, and 1″ height. The toy is recommended for age 5 and above. It weighs 7.8 ounces.
Why kids need the best pool toys
One thing is getting pool toys; another is getting the best. The toys have a lot to play with within their childhood. Getting the best pool toys is necessary for some basic reasons.
Learning: It would help your kids learn to swim better because they have something to make them always want to swim.
Improve fine motor skills and cognitive skills: kids have a lot to learn; parents should help them achieve that with ease.
Social interaction: pool toys are usually played among two or more people and at different places. An example is a pool party; they get to interact with their peers and make new friends.
Problem-solving skills: while playing, they encounter some difficulties that they have to solve on their own. That's good! It helps improve their problem-solving skills.
No matter your kid's age, there are pool toys to make them active and entertained. You have to play your part by buying the best. We have made it slot easy for you by listing the best you can get. It's quite reliable and functional.