Arabic is one of the most challenging languages to learn in the world. It takes a lot of energy, and hard work from anyone to successfully learn Arabic. The process of learning Arabic requires continuous practicing and effort before it becomes possible. Children will often tire out and lose interest when learning the Arabic language. Therefore, they need proper motivation and encouragement to learn this language successfully. Thanks to the power of technology which has provided a series of Arabic learning games for kids. With the availability of these games, kids can now enjoy the process of learning Arabic. They won't quickly lose the zeal to learn because they are learning through entertainment.
Amusement is of the first ingredient that makes successful teaching to kids. Therefore, when learning the language through a series of funny expressions, it sticks to their minds.
However, there is an issue of getting the best Arabic learning games for kids in the market. The problem arises because there are vast numbers of Arabic learning games in the market. Therefore, parents might find it hard to choose the right one for their kids. However, you do not need to worry about yourself because this article will help in that regards. We have surfed through the market, and we have some of the best Arabic learning games for children.
Before we discuss some of these games and their functions, we will first state their importance.
The Benefits of Arabic Learning Games for Kids
Through many years of experience, it has been established that games help the kids to learn faster. Therefore, learning a difficult language like Arabic requires fun to make the kids learn more quickly.
It helps to Build concentration
Teachers and parents can readily confirm how difficult it is to get kids to concentrate, especially learning. They have a billion things running through their mind because they are still trying to understand the world. Therefore, a very little distraction can sway them away from the grip of your teachings. Hence, it would help if you had something that would readily hold them down while you teach. That is why we now have games. With games, you have immediately unlocked the interest of a child when learning. If you can get engaging games, you will have it easy teaching Arabic to kids.
It helps to Build Bond with Children
Having a great bond with your ward is very important. A difficult language like Arabic can create a wedge between parents and kids. Therefore, providing a game that makes it easy to learn the language automatically makes you a super parent. When you both sit and play the games together, they will feel safe and relaxed. Hence, the learning process is faster, and your little one can become fonder of you.
It Helps to Build Various Skills for Kids
Arabic learning language for kids will come with a series of entertaining ways to teach your child. Children will have to either write, speak, read, and also listen when learning. With all the above, your child can learn to write faster as they know the Arabic language. It also builds communication skills among children. Therefore, when you ask your child what he or she learned in school, you will hear them shout "games." This is because it makes them happy, and they are learning a lot of things unconsciously.
Below are some of the best Arabic learning games for kids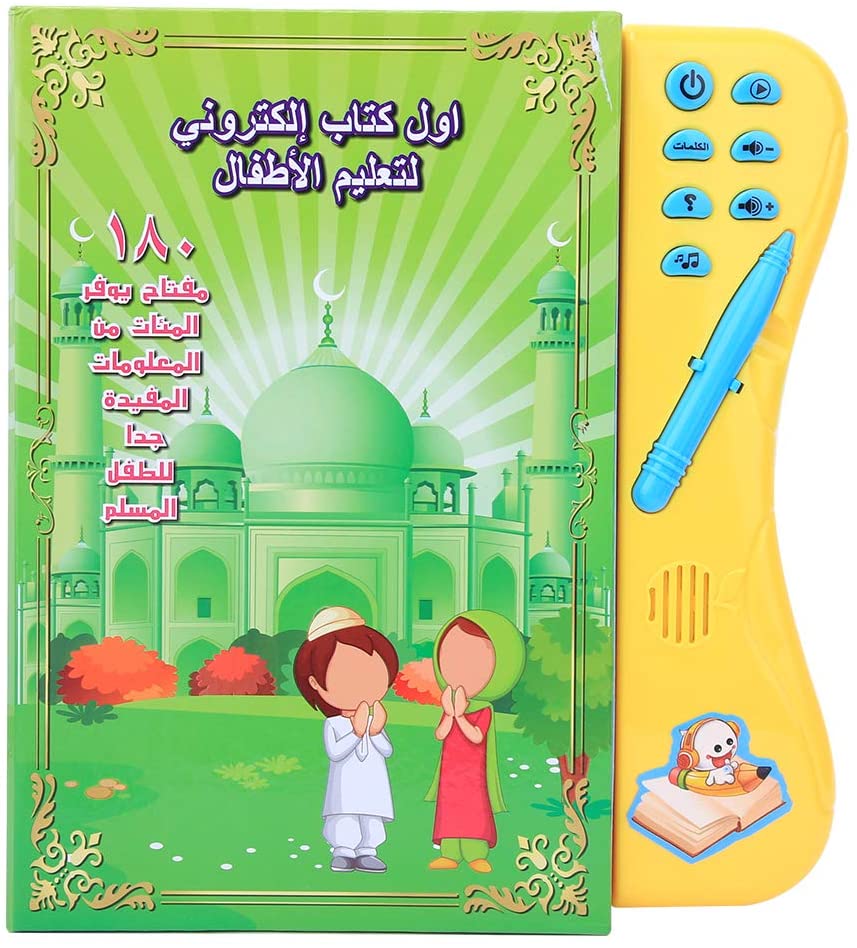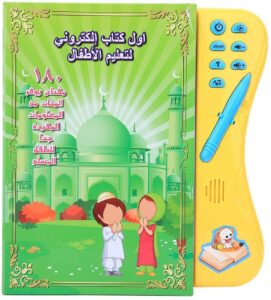 Are you looking for the best Arabic teaching games? It would help if you talked about Tnfeeon Child Arabic Reading Machine. It is one of the best in the market, and it will help your kid learn pretty fast. The first feature that you will like is the ease of mobility. Kids can quickly move about with this toy as it is very light on the hand. The design is portable, and you will like the attractive colours used as the design.
Additionally, language skills and teaching techniques are enhanced to suit children. The fascinating features of this game include the pictures and sound. These two features readily catch the attention of your kid to learn. The sound of the game stimulates a child's feeling, thereby making it easy to understand.
The voice reading the language is pretty straightforward, and it comes in high-definition audio. Also, your little one will learn how to listen when using this game to learn Arabic properly. The game also teaches logical reasoning through knowledge testing. The fun and engaging nature of the game will also help your child learn how to pay attention to.
Furthermore, it is a game built for children within the range of three years and above. Finally, the plastic material quality is one of a kind, and it is safe for kids to use.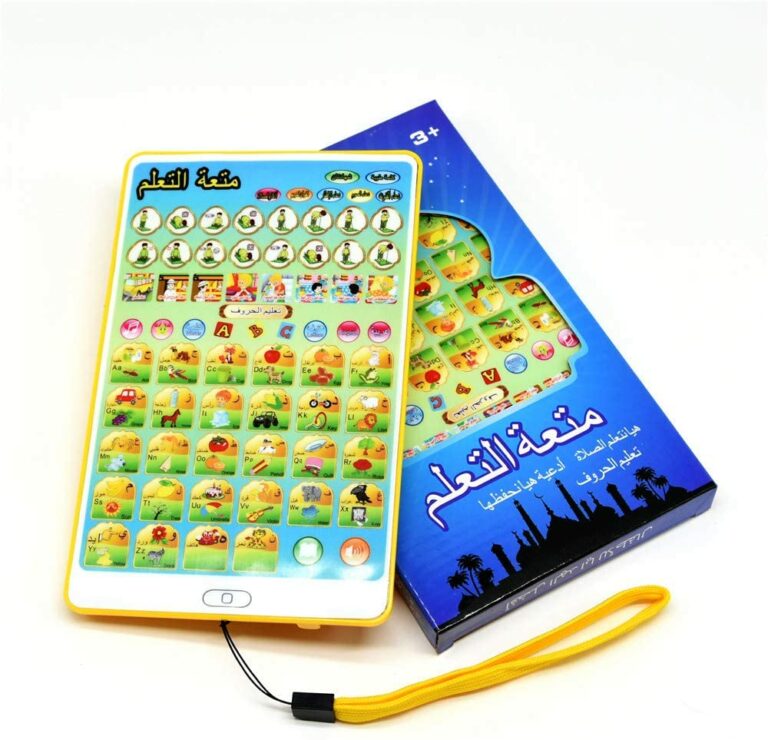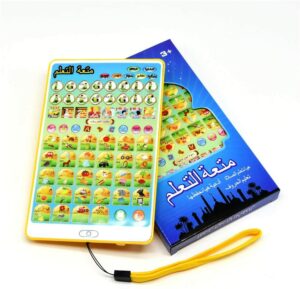 The quality of teaching determines how fast a child will learn. If your child is losing interest in learning Arabic after trying different methods, worry not because you are covered. With JSXuan English & Arabic Kids Education Pad's availability in the market, learning Arabic becomes easy for kids. This is a game that will reignite your child's passion for learning Arabic. It has the quality that is rarely matched in the market, which is why it has made this list.
Furthermore, the game is designed to come in non-toxic plastic material, making it safe for kids. Kids will enjoy the music songs that comes with this game. Also, your kid will immediately learn the Arabic alphabets with this game. The vast number of Arabic words offered in this game is going to aid your child's knowledge.
Another exciting feature of the game is that it comes in a dual language function. Your child can learn different Arabic words, also in the English language.
The pad itself is pretty attractive to kids because of its beautiful colours. Also, it is made to have a very gentle touch for kids. Your kids will learn how to practice the Arabic language on their own with this beautiful game.
Are you interested in teaching your child the skill of coordination? This game readily provides that. Also, it is a game that can improve a family bond because everyone can play the game.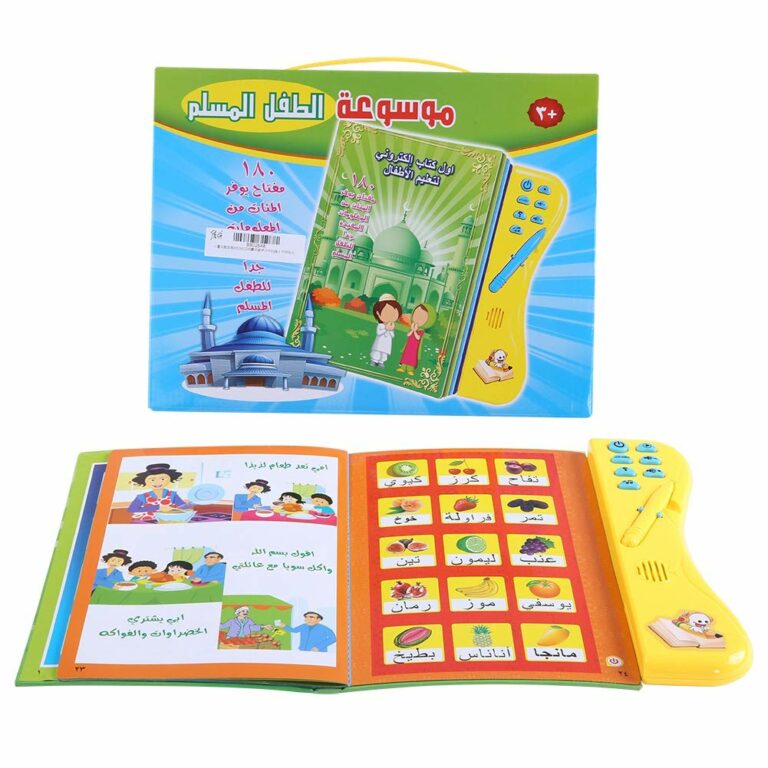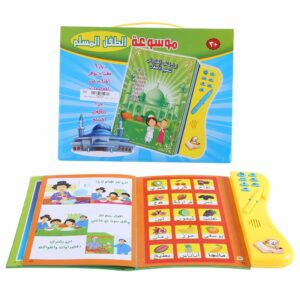 This is one of the most engaging Arabic learning games for kids on this list. It is of great fun and entertainment for the little ones. The game has a quality that stands out in the market when comparing to games of its kind.
You kid can begin to learn immediately you unpack the game. It comes with a pen that your little one can use to click on any picture. As soon as your little one clicks an image, the game begins to read out a lot of fun stuff. It also excitingly asks questions. Additionally, the beautiful voice in the game will attract your little one pretty fast.
Also, learning colours and coordination is part of the many things your child will learn through this game. The game's eco-friendly nature makes it safe for use around kids, and you will like its sleek design.
Furthermore, with this game, your child can enhance learning and curiosity. Also, they can learn how to make creative sounds while learning the Arabic language. You can easily take this baby book on a series of trips to keep your child engaged while you are busy.
The playbook presents children with reader content that offers a vast number of Arabic words. The words span from easy to complicated, and it will help your kid grow in knowledge gradually.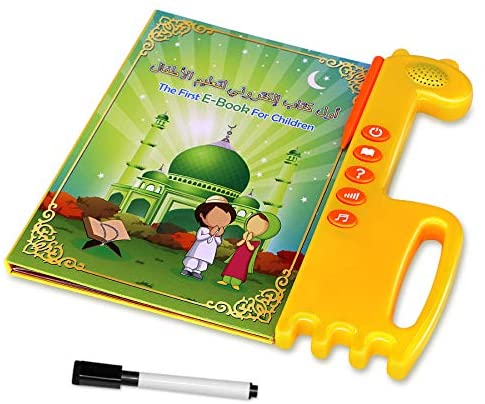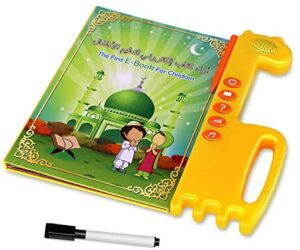 With this Arabic learning pad, you can soon give your child a head-start in the journey to learn Arabic. It is pretty fun, and kids will enjoy just how it is designed. It comes with two pens and one eBook that will help your little one learn Arabic pretty fast.
Children can easily damage toys but not this, thanks to the high durability and quality of the design. Additionally, it comes in a non-toxic design making it super safe for kids to learn. It helps to build a bond between you and your little one as it allows for family play.
Overall, learning on this pad is swift, and the sound it offers will make it easy for your kid.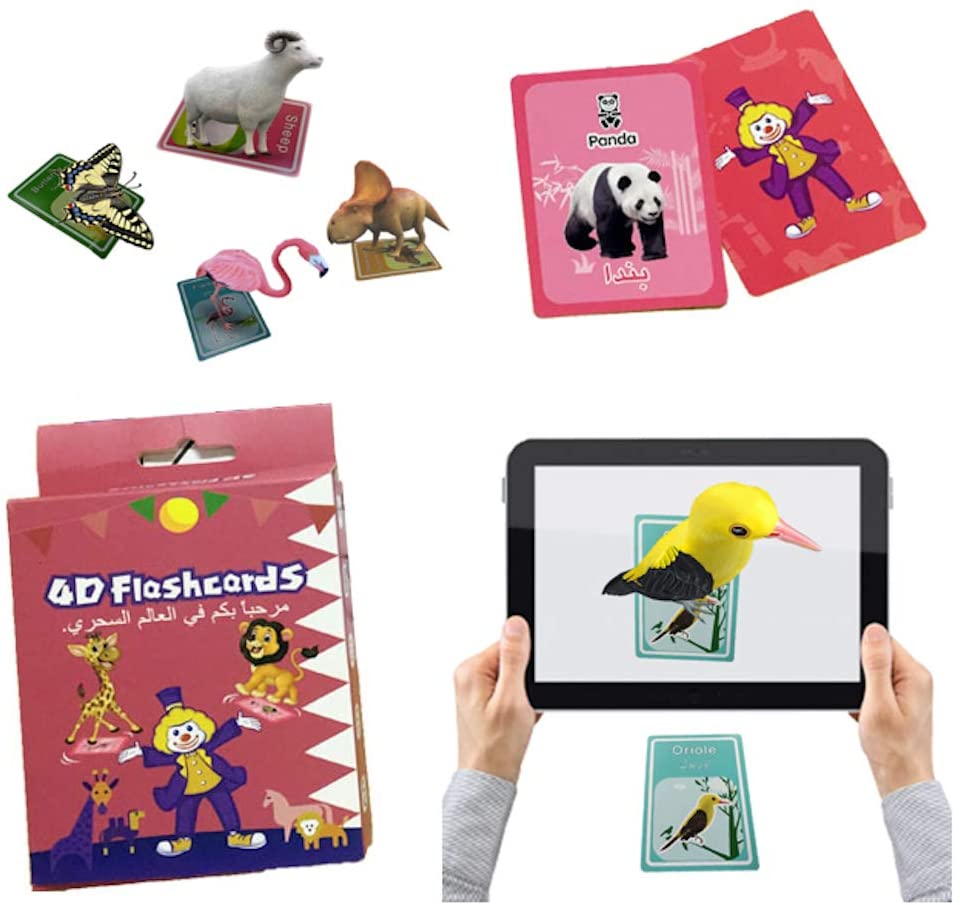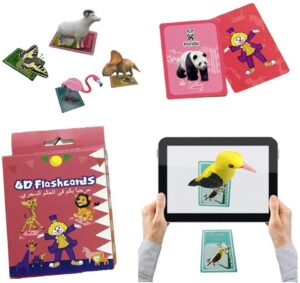 The beauty of augmented reality is seen in this game. It's a technological device that your kid will readily fancy using. It comes with an application that offers over 11 languages for learning, and Arabic is one. There are about 50 cards designed in different colours and images. The cards come in English and Arabic language to aid your child's learning process.
Learning Arabic, and the names of different animals are also something that your little one will relish. It comes with an app that works on any mobile device.
Finally, your child can learn through texts, images, and sound. It is highly engaging as it offers quality all round.
Conclusion
The process of learning Arabic has been simplified through the help of this Arabic learning games for kids. The various games listed in this article will also deliver the best Arabic learning result you have ever witnessed.