Robot toys give kids the chance to have a close-up experience with robots. It also has some educational perks which they can utilize in school work. Many remote controlled robot toys fall under the STEM acronyms – Science, technology, engineering, and mathematics. These robot toys were for educational advancement. These toys enable kids to enhance their problem-solving and critical thinking skills. Not just that, it improves the development of their cognitive and engagement.
Robot toys encourage teamwork and cooperation with kids. It also helps them overcome challenges and develop patience.
Lastly, it is a perfect avenue to introduce them to the world of science, technology, engineering, and mathematics in the early stage of their lives. With that said, here is a list of the best remote controlled robot toys for kids.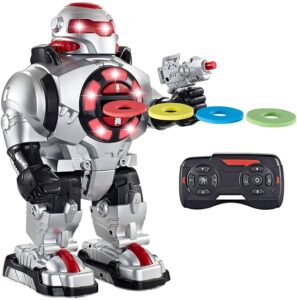 Think Gizmos Roboshooter is the first on the list of remote controlled robot toys. It is perfect for boys and girls between the age of 5 to 9. The toy comes with a lot of wowing features that are fun and action-packed. For instance, the latest version of the toy allows a child to record messages they like to say through the controlled robot. All you need to do is press a button on the product.
The robot toys come with a foam disk that fires out at super speed from the robot chest. Those features enable kids to pretend to stop unwanted guests with their special Roboshooter. Kids can easily find their way around the toy. Also, the robot toy is action-packed. It is the perfect way to introduce your kids to remote control toys.
Furthermore, it has 2.4gHz remote control designated for a robot. The remote control function includes walking, shooting disk, talking, dancing, sliding, talking, and firing blaster. It can speak in different languages like English, French, German, Spanish, and Italian. It requires 6xAA batteries. You can present the toy to kids on birthdays, Christmas, or even holidays.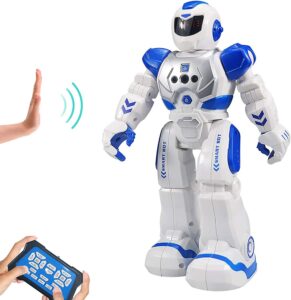 The Sikaye-manufacture product serves as a perfect means to teach kids the concepts in art, technology, science, and robotics. The Sikaye RC Robot comes with infrared remote control. Not just that, the control also has gesture sensing control mode.
It's cute to see your kids have the toy around. The toy can bring more fun to kids. It can dance, walk, interact, and slide. Additionally, it has over 50 programmed actions which kids can easily switch to with the remote control in their hands. It is suitable as a birthday and Christmas present.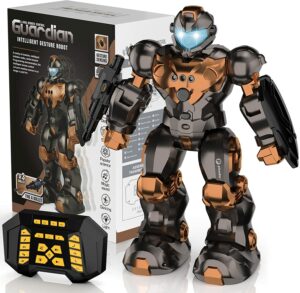 The next on the list of remote controlled robot toys are manufacture with high-quality matte metal. It is considered a child's playmate. It can further serve as a lovely addition to the interior of your home.
This is a perfect choice for birthdays and Christmas. The robot toy comes with exciting features which make it cool for kids to have. They include:
Glowing LED eyes
Simulated machine guns
Magic sounds effects
Remote control with gesture sensing functions.
Approximately 50 programmable movements
It is rechargeable with a USB cable.
The robot requires an hour for a complete charge.
60 minutes power time.
Dynamic music and dancing

The Top Race-manufactured allows a child to communicate with the robot dog. All the child needs is a clear voice, and the robot will respond like an actual dog. For instance, the puppy answers command like it down come here, spin around, stand up, and dance. The 12 different inbuilt voice directives give kids the chance to play with smart interactive puppies.
Now let us get to the functions. With the remote control, the robot dog can imitate 100 animal forms. These forms include slipping, standing on two legs, dancing, singing, crawling, forward/backward, and more. It takes 50 to 70 minutes for the robot dog to charge fully.
Top Race Remote Control Robot is manufacture from food-grade plastic. That makes it safe to have around your kids. Also, the robot dog can quickly sense and respond to the remote control, as long as it is within 50 feet range. As mentioned earlier, it can dance to music and do lifelike movements. It comes with an inbuilt 7.4v 600MAh rechargeable battery. And the remote requires 2XAA batteries.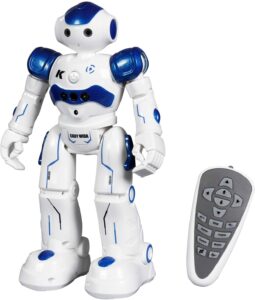 SGILE RC Robot Toy is recommended for kids from age three upwards. It has a remote control that has gesture sensing functions. That makes the sensor receiver zone in the chest that enables the robot to respond swiftly after a gesture command.
One of the distinguishing features of the SCALE-manufactured robot is the one-button programming functions. The functions allow the robot to demonstrate a series of actions. Not only that, it comes with about 50 motion commands input that enables them to relish their imagination.
The patrol function enables the robot to move to observe. With the inbuilt sensor, it can easily detect encounters and avoid obstacles. It has bright LED eyes. The intelligent robot can also dance and sing.
Lastly, you can recharge the robot through a USB cable. It takes up to 2 hours for the battery to fully charge. You can present the robot as a birthday and Christmas present.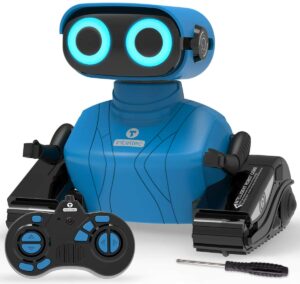 The KaeKId-manufactured robot for kids is ideal for entry-level remote control toys. It is easy to operate. The six wheels make the robot move faster. It can move forward/backward, right/left with the remote control.
Additionally, the robot has a 2.4GHZ remote control function. The distance of the remote control is approximately 32 feet if there are no blockades. The KaeKid Robots for Kids requires 2 AA batteries.
It is manufacture with high-quality/non-toxic materials that make it safe and durable. With just one click, kids stand a chance to enjoy varieties of automatic demonstrations. Indeed, the robot toy is perfect for boys and girls. It is portable and allows easy movement.
The robot is ideal for kids between the ages of 3 to 8. The toy is perfect as a birthday or Christmas present. Lastly, the robot comes with packages that include:
A robot toy
1 X controller
1 screwdriver
And a manual

This is quite different from the aforementioned remote controlled robot toys. It is a robot Dinosaur manufactured by SNAEN.
Like Dinosaurs, the super mechanical dragon sprays fire and ice. Although, they are not literal ice and fire. When you press the "spray fire" button, there will be RGB light (fire-like) from the mouth. On the other hand, when you press the spray ice button, you will see an RGB light turn blue. The fire and ice sprays last up to 5 seconds before it is out. However, it is advisable to fill the inbuilt water case before you play. Ensure that the plastic bottles are filled only with clean water.
In addition, it has large wings. And it comes with an ejector, which is capable of launching three missiles in one shot.
To launch the soft bullet missile. All you need to do is install the bullets in the back. Then load it and press the shooting button to fire. The shooting range is approximately 17fts. Children should avoid aiming at the face or eyes. When you decide on the product, you will see six small bullets in the package.
Dinosaurs are known to be fierce creatures. And the real question is: how can you the wild creature be tame?
That is where programming comes in. With the programming functions, the robot will follow any designated commands. When you press the program key there is a prompt tone. There are about 20 different commands in the function buttons.
Furthermore, when you assemble the SNAEN Multifunctional Remote Robot Dinosaur is of an extra-large size. But the tails, wings, and ejectors are detachable. It comes with 2 sets of rechargeable batteries. The robot is perfect for birthdays, New Year's, and Christmas presents.
Before You Decide On a Remote Controlled Robot Toys
There are certain factors you need to consider before buying a remote controlled robot toy for your kids.
STEM (science, technology, engineering, and mathematics) Oriented: Not all remote controlled robot toys are STEM-oriented. It is paramount that every toy and gadget is designed for the educational and psychological advancement of your kids. With STEM-oriented toys, your kids can have fun and be educated in the same vein.
Ensure that the toy is manufacture with safe and high-quality materials.
Durability is very crucial. The toy should be able to stand the test of time.
Consult your child, let them play a role in the decision-making.
Lastly, consider your space before deciding on remote-controlled robot toys. If you have a limited space, it is advisable to go for a robot toy that can fit your space.