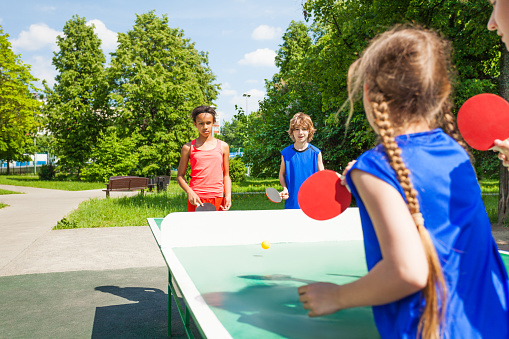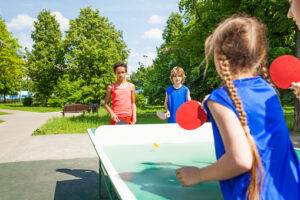 Do you know table tennis is also known as ping pong? Here, we will walk you through some of the best table tennis for kids.
But before we get started, what kind of spot is table tennis? What are the benefits of playing table tennis for kids?
For kids, table tennis enhances the development of a child's brain. It also is a perfect way to cut down your kids' screen time and creates an avenue for you to spend quality time with them.
When children play table tennis, different parts of the brain are activated. Here are some of the benefits of table tennis for kids:
It helps them nurture how to handle pressure at a tender age.
Table tennis enhances decision-making skills.
It improves alertness, reflexes, hand-eye coordination, physical, and mental fitness.
Table Tennis lightens the competitive spirit in kids
It is a great way of making new friends.
Table tennis is a perfect way to burn out some calories.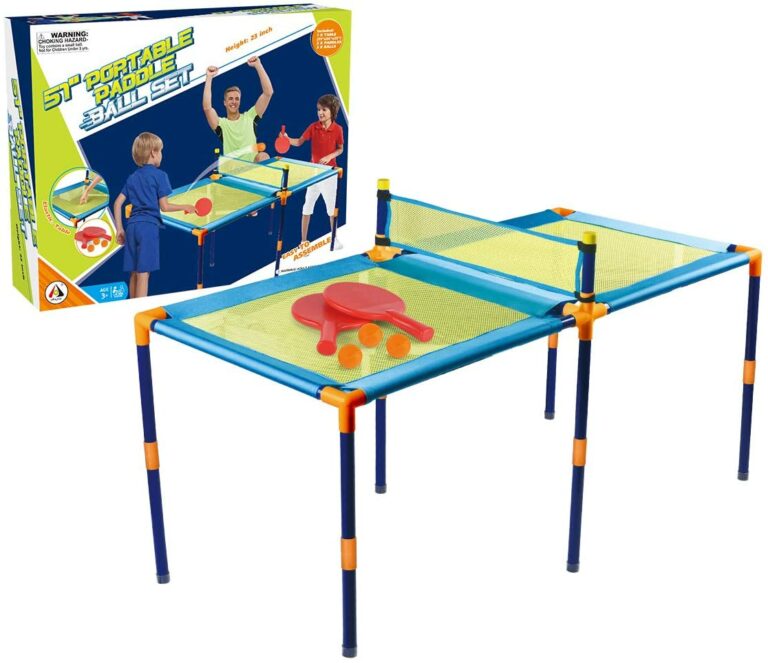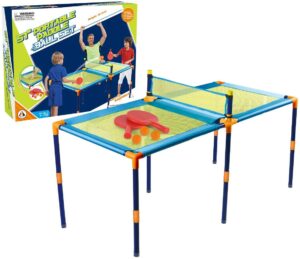 The Ao Jè-manufacture product is the first on the list of best table tennis for kids. The set comes with 2 paddles, a table, net, and 3 ping pong balls. It is suitable for kids between ages 3 upwards.
With that said, it can be played indoor and outdoor between two or more players. The set is not just for kids. It is a great game to play with friends and family. Imagine how it would be to have table tennis included in a game night with your family.
Also, the table is elastic, lightweight, portable, and easy to assemble.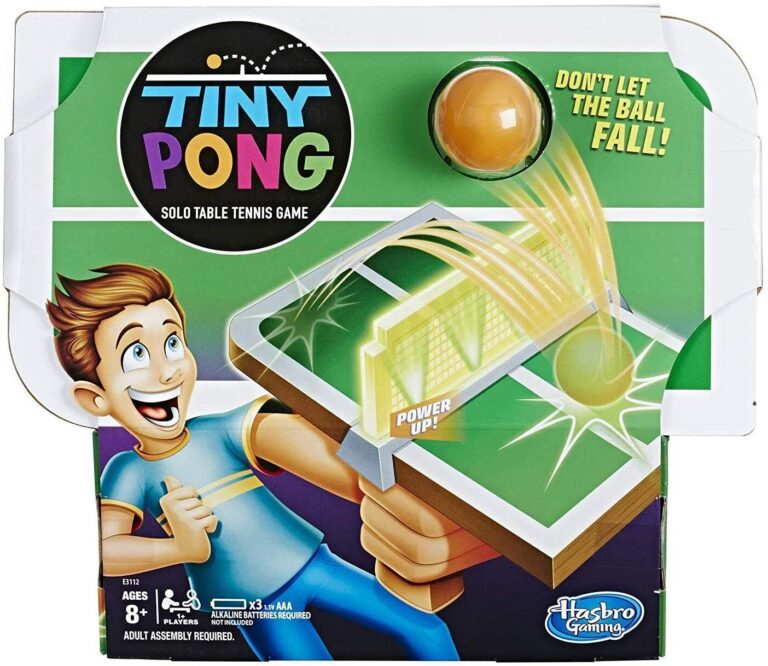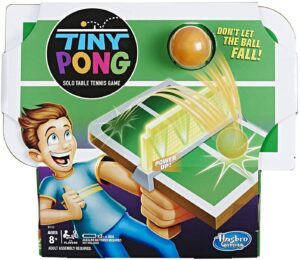 Hasbro-manufactured table tennis is the second on the list of table tennis for kids. It is suitable for kids between 8 upwards. However, adults are not left out of the handheld game. The game is electronic and requires AAA batteries to get it running.
Take a minute and think about the possibilities of playing table tennis without the need for a full-sized table. That is what you will be getting when you decide on this product. Apart from that, it comes with light and sound to make the game more exciting. The light switches on when the game starts and when you proceed to another level. It records every bounce on the tabletop and does not require a paddle. When the ball falls, the game is over, and the score is announced.
The game is designed to be played with or without a partner. Therefore, going solo or competing for turns with your friends for sportsmanship, will not stop you from having fun. If the beginner mode is not challenging enough, you can easily switch to expert mode.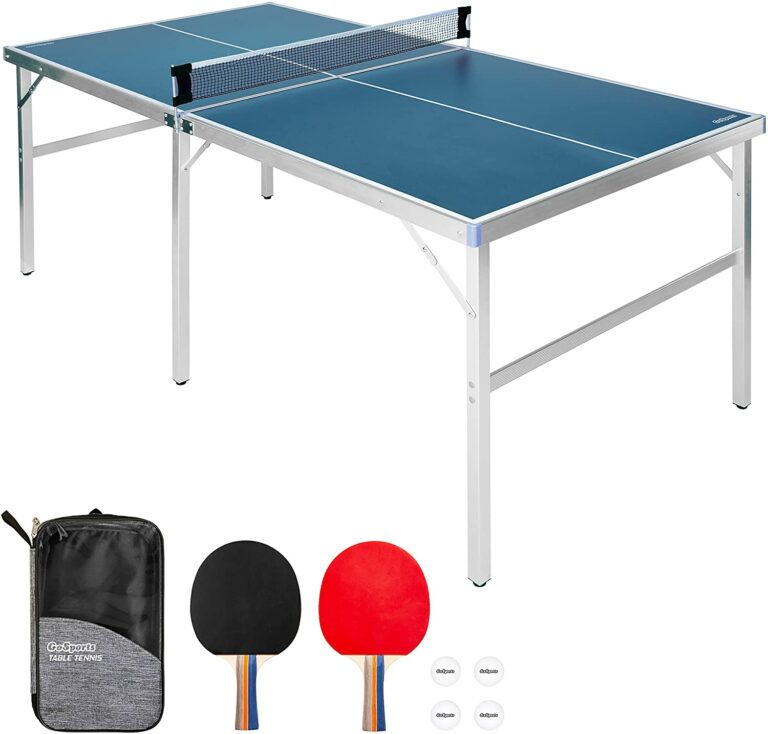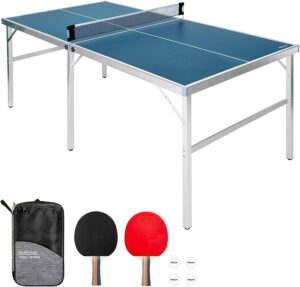 The table tennis for kids is composed of wood and aluminium. It is P&P Imports LLC-manufactured. It is suitable for both indoor and outdoor games. The game set is suitable for small spaces. Moreover, you can set it up in your home, apartment, office, bar, and more for epic games for you and your kids. Some of the accessories included are:
Tennis table
2X paddles
4X balls
A game net
And the game rules
The table can fold up in half. There is an already built-in carry handle which makes it easy to be carried by just one person. It is small enough to be stored anywhere. The table is perfect for smooth play and perfect bounce for seamless hours of fun.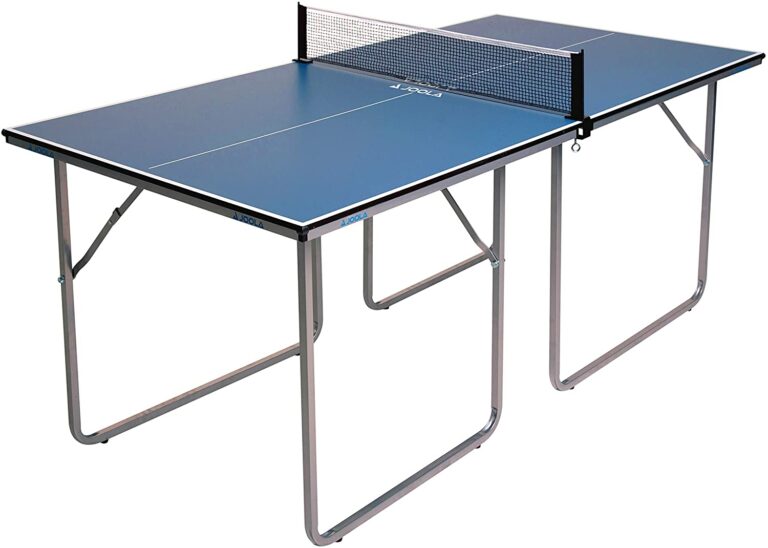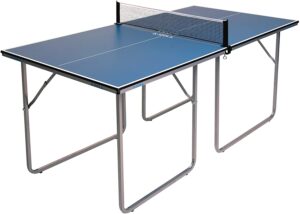 The Joola-manufactured table tennis for kids comes in two halves. The net is attached with classic screw clamps which hold the table together to prevent separation. The table is the same height and length as the regulation size table tennis table. Here is the advantage of this feature, it can be separated into two halves and the table legs are foldable.
The separate halves make it easy to be moved, stored, and used as a normal single table for your other table needs. And many other different purposes like parties, game night, and all sorts.
The tennis table is portable and lightweight, so it can be stored anywhere after playing. It allows you to reserve space when needed. The product requires no major assembling. Unfold the legs, attach the net to the table, and play. It is cool. Right?
With the product, you can play table tennis no matter where you live and no matter how much space you have. It is suitable for all kinds of apartments. The table can fit any regular-sized closet.
The Joola Midsize Table Tennis Game is perfect for anyone who is a table tennis enthusiast. Table tennis for kids is ideal for fun.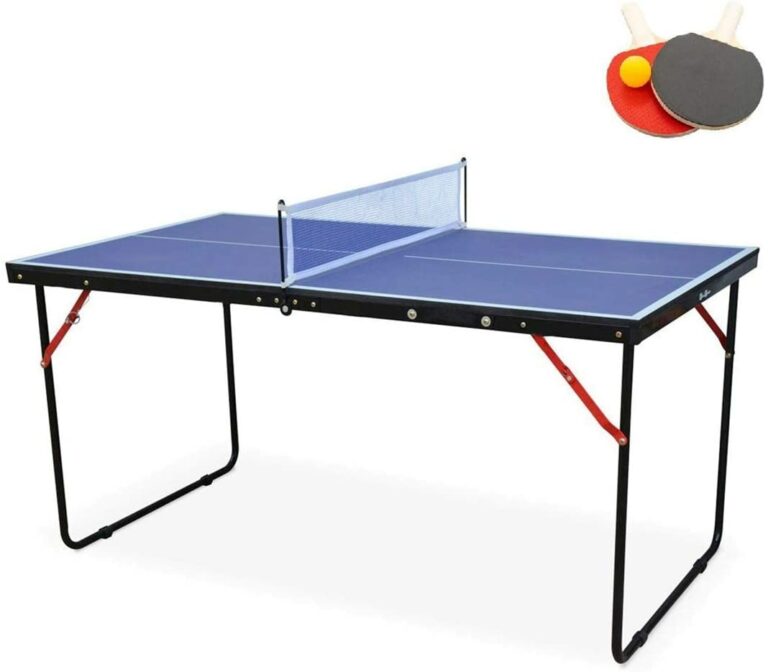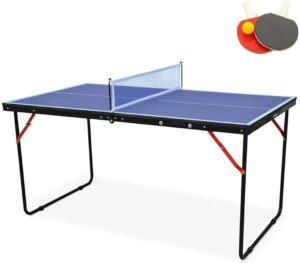 The KL KLB Sport-manufacture table comes in different cool colors. It is made of alloy steel. However, the table is perfect for apartments, small office spaces, or any tight space with limited space.
The tennis table features folding legs which makes it easier to fold. Saving space when not in use. The table is very light, easy to store under the bed, sofa, closet, store or just stand against the wall. It is suitable for indoor and outdoor usage. You can play it with your kids on weekends.
The tennis table can be used for multiple purposes when not in play such as:
Entertaining
Crafts
Playing poker board games
Any other table game
Writing desk
Dinner table
Outdoor picnic table and so on
A perfect game that brings family members together.
It helps your kids exercise and stretch their bodies. It enhances hand-eye coordination, fast reaction, and stamina.
The table is a perfect gift for kids for all kinds of occasions such as birthdays, thanksgiving, Christmas, new year, and so on. Here are what you will be getting when you decide on table tennis for kids
100% pre-assembled.
Instant setup
Compact table perfect for tight spaces
1/2 MDF tabletop with silkscreen striping.
Separate table halves
Multi-purpose tables
Easy storage.
A Table Tennis Table
A Net
Post Set
2 X Table Tennis Rackets.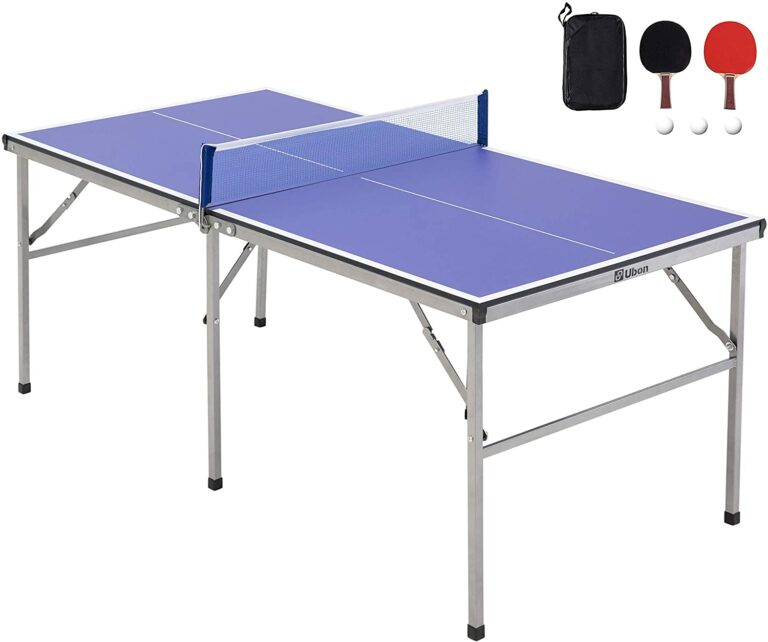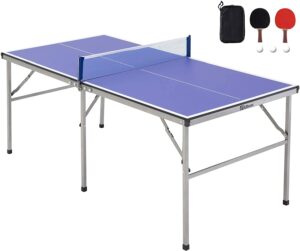 The Ubon-manufactured table tennis for kids can be played both indoor and outdoor. It requires no stress-filled setting up as it has already been assembled. It is foldable, portable enough to be stored anywhere like under the bed, closet, store, or sofa.
The table is perfect for smooth play and it is safe for play. When the net is removed the table can be used for multiple purposes such as dinner table, writing desk, and board games table. The net is washable. Some of the package included are:
3 X balls
2 X paddles
A net
And a table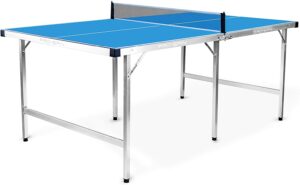 The Pro Spin-manufactured table tennis for kids is waterproof. The top of the table is fashion with aluminum. It is played both indoor and outdoor without any damage. Additionally, the table does not have a metal frame at its edge. Therefore, it will not interfere with the bounce of the ball while playing. The table has been pre-assembled as a single piece. It is pretty easy to fold and break down for storage.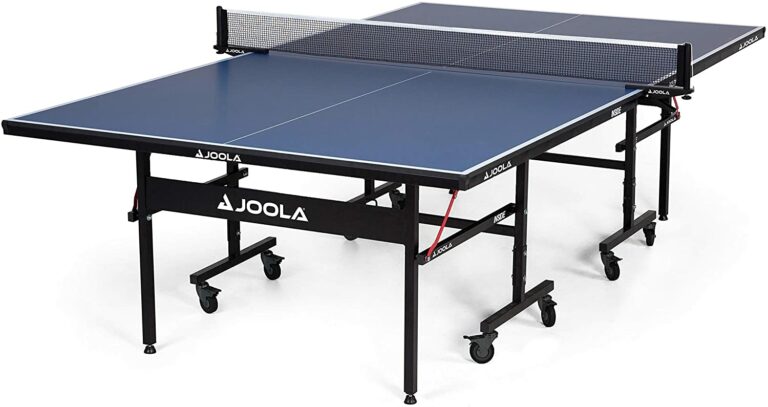 JOOLA Inside is a perfect choice for kids looking for an affordable fun-filled game of table tennis. It was manufactured by Jool and has been 95% pre-assembled. In just 10 minutes the table is ready for use.
The table is made of top-quality material wood. The material creates a surface for even ball bounce. It also enables the ball to withstand intense play and long-term use. Table tennis is designed in a way that the two halves can be separated. It can be used for the Playback position where you can position the table another half in a way that bounces the ball back at you.
Joola Inside Table comes with features of undercarriage foldable steel legs. It also has caster wheels. All these features make the storage of the table halves completely convenient. It comes with clamps, steel legs, with rubber leg levelers that keep your floors from scratching. Some of the package included are:
Net
Post set
Removable clamp post
Adjustable net tension system
Safety Latch System
5 Inch Steel Tube Aprons
3 X Inch Locking Casters
5/8 Inch Dark Blue Tabletop with Silkscreen Striping
Steel Legs
Conclusion
With these products, you can train your child at home. Irrespective of the spaciousness of your home. When purchasing table tennis for your kids online, go for the ones that the features match you want. Decide on table tennis that allows you to play with your child any time, any day.
With all said, I know you will agree that table tennis is indeed beneficial for your kids and family at large.