The toy industry is a multi-billion-dollar industry. With every passing year, children's playtime is becoming increasingly digitalized. This has caused an increase in the availability of educational toys for 1 year old that can be used at home or in school.
So, as you are shopping, you must take out little time to pick a toy for your little one. Ideally, you should choose a wide range of toys for different applications. In this piece, we are looking at top educational toys for 12-month-olds.
You are probably wondering what a 1-year-old need educational toys for. Here are the benefits of educational toys for toddlers.
What are the Benefits of Educational Toys?
Your baby needs some toys at this early age to help with stimulation and problem-solving. The child is more active, and toys like blocks and stackers will help the child work through conflicts. They will also be familiar with the consequences of specific actions. These toys will help your child build up confidence after figuring out how the toy works.
Also, toys that help with motor skills will keep a crawling or walking child busy. You should consider toys with light and sound like push cars, stride, or walkers for balance and coordination. Your one-year-old will also gain some recognition skills from playing with themed playsets involving animals and the sound they make.
Kids also improve their creativity and imagination with ride-on toys that push them to solve problems by following directions. Roleplay is also not out of the list as it helps them relate better to their environment and people.
So, help your child develop intense stimulation, motor skills, problem-solving skills, creativity, and imagination with educational toys. Here are some educational toys for 1 year old that you can't resist.
Top Educational toys for toddlers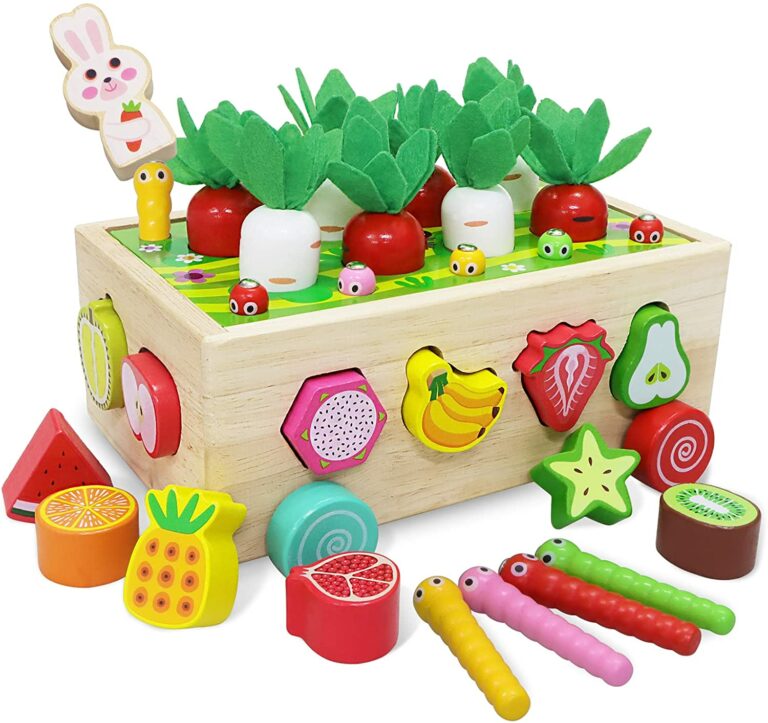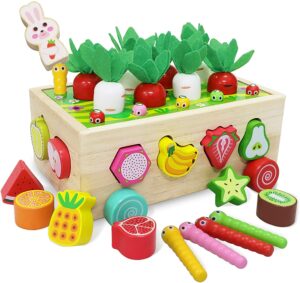 As mentioned earlier, themed playsets will help build recognition skills, and this Montessori wooden carrot toy is a great choice. It is a wooden base five-sided car with about 12 fruit blocks, 8 carrots, and 10 cute worms. The toy comes with a multi-colored pattern that makes it attractive for kids, especially 1-year-olds. The games also have a "rabbit catching worm" harvest game that helps your baby with hand-eye coordination. That's not all. Pushing the game is a great way to exercise the child's crawling ability.
The toy is made of natural solid wood and polished edges with environmentally friendly water-base paint. It is a high-quality toy that is perfect for building a solid parent-child bond and also a very interactive moment with their friends.

This toy is shaped like an Ankylosaurus. It has 12 easy-to-grab pieces in 4 different colors. Spike Dinosaur Montessori Toy helps your child build color recognition, sorting, and counting skills. Fitting the parts into the dinosaur leaves its mouth open and creates a motor skill activity for the toddler.
The Montessori toy is made from high-quality plastic BPA-Free and suitable for kids from 6 months up. The toy comes in a packaged pack weighing 10.9 ounces. If you are looking for a great birthday, Easter, or Christmas present for an infant, this is a perfect fit.

The Totyventine toy is suitable for baby girls from 12-month-old. It is a 6-sided cube gift set with a "Play in the garden board book' that every little girl would love. The toy is fun, safe, and highly educational. It is constructed with sturdy wood with premium craftsmanship. The toy is also painted with non-toxic paint and has undergone testing to certify its standard.
With this educational toy for 1 year old, your baby girl learns some skills that aid her growth. It encourages math and counting skills, pattern and color recognition, and many more without overstating.
This toy has a wooden bead maze, abacus, spinning gears, learning clock, shape sorter, tic tac toe board, and sliders. Hence, you have a 7-in-one toy that helps you save more and reduce clutter.

This is a stacking puzzle toy with 20 colorful pieces, including blocks of 5 shapes and 5 colors. It helps your child learn color, shape, and size recognition skills as they try to match the blocks. The puzzle is suitable for kids from 1-4 years, which means that you will enjoy its benefits for a long time. It is durable and manufactured with a high-quality craft that is 100% non-toxic wood.
The wooden puzzle is also made to be eco-friendly and child-safe. It comes in a presentable package with the pentagon, rectangle, square, triangle, and round blocks. You can comfortably let your child play without fear of swallowing as the blocks are large-sized.

The Einstein box is a fantastic toy set with interesting animal masks, first words poster, board books, and rhyme cards. It helps a baby improve imagination and creativity skills. It can be used for storytelling or roleplay, thereby creating more bonding time between parent and child. This is a complete learning kit for any child from 12 months and above.
With this, you could be raising the smartest kid in time—a one-year-old with fast-thinking ability, a love for books, and an excellent learning habit. The toy set has been made with superior quality, extra-thick cardboard with rounded edges and a wipe-clean surface.

Get your little one into the sports zone with this 2-in1 basketball and soccer net toy set. Your child can choose to score a soccer goal or throw the ball into a basket. The sports center has an animated LED scoreboard. It helps your kid count scores with exciting playful sounds and phrases.
The set also comes with shape buttons. This makes it a perfect set to help your kid learn shapes, sounds, and number count early. The child gets access to more than 50 sounds and phrases. It is made of plastic and suitable for kids between 1 and 3 years. It operates with a 3 AA battery, but this is not included in the package.

With this, your child learns songs, sounds, phrases, and recognition skills from feeding a dinosaur with colorful feeds. This responsive dinosaur recognizes the eight colored food pieces it gets as your toddler provides it. The toy set has five shape buttons that teach shapes and numbers.
The Vtech chomp and dino green come with volume control and automatic shut-off with a durable design. You can help the child have a quieter play without ceasing the toy with the volume control. The package includes 2 AA batteries that will help the toy operate.

Ultimate hammering pounds toys are made from wood and weigh 1.1 pounds. It is measured at 9.45 by 5.98 by 6.5 inches. Ultimate focuses on children according to the characteristics of different children. These toys help parents develop the potential of their children in various aspects. It also promotes multiple intelligence in children. It could serve as a children's day gift for a year old and below. The toys indeed make children more innovative, creative, and imaginative. It helps parents entertain the kids and keep them busy.
The package includes 2 xylophone sticks, 6 colorful shape blocks, 1 wooden hammer, 3 colorful wooden balls, 1 tap table, and 1 xylophone. The toddlers tend to be very curious about exploring different notes. When the toy is placed in a reversed position, it can accommodate the accessories simultaneously. It can be used as a storage box for your toddler. Also, it is lightweight and can easily be moved around or taken as a travel toy.
Its surface is very well polished. The edges are round to ensure safety. The shape sorter helps define fine motor skills, practical abilities, eye coordination, and muscles. Children can learn by matching the colorful blocks well. Moreso, xylophone nails are steel to ensure their durability and firmness. You do not have to worry that it will go out of style or season. It has a classic design and quality craftsmanship. With the Ultimate hammering pounds toy, the risk of injury is very low. Instead, it is entertaining and educative.
Conclusion
Getting educational toys for toddlers is the easiest way to teach kids various skills easily. Learning doesn't have to be so obvious and overbearing for a year old. Fun learning is much more educative and effective. Kids with this opportunity tend to grow faster than their peers. As parents, that is what you should want for your kid. We have provided you with enough materials and recommendations for educational toys for 1 year old to get the ball rolling. Take this step today. It pays off.