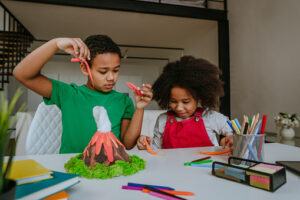 Volcano Model Toys is a way for kids to learn about earth science. It teaches kids about volcanoes like how volcanoes erupt, causes of volcanic eruption, ways to prevent volcanic eruption, and more. Also, it spices up the kids' creativity and imagination. Volcano model toys enhance children's abstract thinking, imagination, hands-on ability, curiosity, and scientific exploration spirit.
Apart from their educational values, they are interesting toys every kid should have. These toys help in cutting kids' screen time. Also, the toy ensures that you have a parent-child bonding time. It allows your kids to build their social lives, especially when playing the volcano model game with their playmates.
Additionally, the volcano model gives them a chance to deal with emotional cues like crying, anger, and laughter. A perfect gift choice for your kids for occasions like Christmas, Thanksgiving, new year, birthdays, welcome back to school gifts, and so on. Therefore, the volcano model can be of great help to help them understand the world better. Here are some of the top volcano models for kids options you can explore.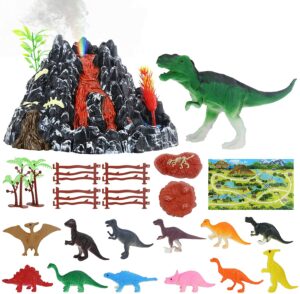 This dinosaur volcano toy set model comes with 13 different kinds of dinosaur toys that include 12 mini dinosaurs and 1 large Tyrannosaurus Rex.
With this toy set model, your kids will be familiar with different species of dinosaurs. The eruption simulation and the volcano's shape of the toy are similar to a real volcano. This makes the feeling real for kids. The volcano toys can improve children's imagination, hands-on ability, curiosity, and scientific exploration spirit
For the volcano to erupt, all you need is to pour water by the bottle which is included into the tank inlet on the top of the volcano and turn on the switch. When that is done, you will see mist instantly coming out, captivating lights as well as the spray effects.
The volcano model toys are fashioned with green ABS eco–friendly materials. The dinosaurs are of soft rubber material. These dinosaurs can be your kids' bath buddies. The paint used to coat the dinosaurs are water-based products that would never fade out. Therefore it is safe to say that the dinosaurs can be washed. It requires 3 X AA (1.5V) batteries to power up the volcano. The batteries are not in the package. Vanlinny product is ideal for kids between the ages of three and above. The toy set consists of the following:
A magic eruption volcano
13 X dinosaurs of different sizes
Trees
Fences
Fire pits
Dinosaur eggs
All the aforementioned accessories can be used to create any volcano theme your kids desire like the Jurassic dinosaur park theme. This makes it a perfect gift for your kids no matter the nature of the celebration.

This Playz product is one of the Volcano models for kids. It is made for kids between the ages of 8 to 12. The volcano model toy is made of plastic. It is a colorful volcano model as the name rainbow implies. The Volcano model is a way of reducing your kid's screen time with another thing that would thrill them.
Additionally, it teaches kids cool things and fun facts about Chemistry (chemical reactions), Science, Technology, Engineering, Math, Geology, History, Arts & Crafts. For craft, it will teach your kids color mixing, and more. The playz-manufactured volcano is a thoughtful gift for Christmas or a birthday gift.
It is ideal for kids between the ages of 8 to 12 years old. A colorful eruption makes this volcano model special and attractive. The Rainbow Volcano Toy Set Model includes:
23+ Colorful Eruptions
Chemistry Experiments
32+ Science Lab Tools and Ingredients
20 X Page Full-Color Activities
Colored instructions

This is another example of a Playz product that is suitable for kids between the age of 8 years and above. This product is perfect for kids. It is also safe for kids to use. Also, it helps in imparting knowledge to your kids in a fun way without them realizing it.
The Playz product will ensure that your kids are more acquainted with knowledge like Electrical Current, Chemical Reactions, Electrical Engineering, Chemistry Transformations, and many more. It is safe for kids to use. The toy set creates a newfound love for science in kids. This Volcano model is a perfect gift for any occasion. Also, the Volcano erupts colorful volcanoes. The beautiful colors it erupts make it so catchy and fun. This Explosive Eruptions Volcano Model Science Lab Includes:
18+ Hands-On, Natural Learning Experiments
23 X Tools
Ingredients you can combine to make all the things explode "BOOM"
36 X Page Visual, Step by Step Lab Guide (for parents to help their kids set up their lab)

This volcano model is ideal for kids between the ages of 6 to 10 years. A perfect gift idea for any occasion like Christmas, birthdays, Halloween, and more. The pack is gender-neutral and that makes it a perfect choice for boys and girls.
The volcano model teaches kids earth science with an erupting volcano. The science of mixing things to create lava. It also comes with a "13″ clear plastic tray and removable tube which helps with clean up. The Learning Resources-manufactured toy does not require any assembling. And that makes the setup easy. There is a fact-filled guidebook to guide you through the setting process. It comes with a guidebook that includes everything you need to know about volcanoes.

The Aomola-manufactured volcano model toy is perfect for kids between the ages of 3 up. The toy set is made of polyvinyl chloride and non-toxic soft rubber. It is hand-painted using water-based paint. This hand-painted makes the dinosaurs look more real. The paint will not fade due to the type of paint used.
It helps to build a parent-children relationship and help cut your kid's screen time. Also, it makes your children create their own story like a Jurassic dinosaur park story. The combination of volcanic dinosaurs and stone fence trees makes it easy to play and more fun.
The volcano does not erupt fire but it uses smoke and light. This imitates the volcano eruption. However, a 3 X AA (1.5V) battery is required to make it run. When you add water to simulate the volcano eruption, the mist will come out instantly along with the lighting lava effect. I know you will agree that lights and spray effects are very catchy to children. The pack is stored in cute boxes which makes it a suitable gift for birthday parties, Christmas, Children's Day, Halloween gifts, etc. This set is a perfect gift for dinosaur lovers!
The volcano dinosaur toys pack includes:
Brachiosaurus
Triceratops
Pterosauria
Tyrannosaurus Rex
Volcanic
Plesiosaur
Mat 80cmX70cm)
Fences

The F Fityle-manufactured volcanic eruption model is perfect for kids between the ages of 3 up. It is a great toy for kids to learn scientific knowledge about Volcanic Eruptions. With the use of dinosaurs, kids can create a dinosaur world theme. However, dinosaurs are not included in the pack.
The volcano material is easy to play with. It is resistant to falling, breaking, and cannot easily deform. To create the volcanic eruption, take out the stopper and fill the reservoir with water, switch on the spray switch, press it to spray, and the spray port is lighted.
If you want to choose a cool gift for your kids ( boys or girls), especially those that love volcanos, this volcano model is recommended. It is easy to set up since it doesn't require assembling.

The last volcano model on the list is by Thin Air for kids between the ages of 5 to 10 years. It is of durable plastic. The volcano model gives room for easy maintenance. Also, it does not require any special assembling. It teaches kids Earth Sciences, Geology, STEM and (Science, Technology, Engineering, and Mathematics).
When you decide on the Thin Air product, your little ones will get educational and recreational values. Moreso, the colorful packaging box makes it a great gift idea for your kids. You do not have to be worried about the mess the eruption will create. An exclusive laboratory pad makes it easy to clean up. This toy set can be used both at home and in school. It is safe to play with. The toy set consists of things like :
Experiment card
Molded volcano
Containers
Syringe
Funnel
Laboratory base
Conclusion
Volcano model toys have educational and recreational values that can not be ignored. It teaches kids scientific techniques like Chemistry, Science, Technology, Engineering, Math, Geology. As well as the art of History, Arts, and Crafts.
Kids tend to love things that are interesting and catchy, a volcanic Eruption toy is an example. Volcano Model Toys are a great contribution to your kid's mental health and well as academics. It is recommended for your kids' growth.